I know sey na only me waka come but I will still be wakaing..hehe.
I will purposely not say sorry because my sorry too dey plenty abeg. Every time I will be apologizing… but I can't just help but say sorry. I have no excuse really…even if I try fabricating one, it would be so stupid…. Please forgive me. I am so sorry.
It is not my intention to keep leaving all the time. You all must think I like it....no I do not... I hate it… most especially when I get calls and text from y'all asking me what's up... I just get depressed.
I purposely do not pick up your calls and read your messages cos they remind me of something I'm not doing right *sad face*. There was a day a blog visitor saw me and she just shouted my name. Whenever anyone calls me Moby, I know its either a blog reader or a new friend. If you tell my mum you're looking for Moby, she would send you to the next street ni… no one knows me as Moby asides my sister, Lola. So immediately this beautiful woman called me and said she reads my blog, I became depressed cos I am a terrible person. I met another at a wedding over the weekend and it was so touching for me. I come up here, put up post, make people like me and then I run off like Usain Bolt. Not cool shey? Kai. Shallat to my beautiful mobylizers...i lavvvvvvv you. Oya chop kiss from ma new boo
mpkewwwww
Guys its not easy to be a reality blogger... aswear. If it was a news blog, I will just be copying and pasting (no puns intended to all the news bloggers here) but being a reality blogger, you have to continually think and write and make people happy in the process. You want people to continually feel your emotions in your writing. Ko easy mehn. I've met a lot of mobylizer and what they always say that inspires me is "Moby you write like we know each other...like we are gisting with each other... totally relate able" and in my head, I will just be dancing skelewu...
Someone sent me this last week and I knew I had to put up a post today.
Hello

Greg
The latest one I heard was "Aunty don't put what I just said on your blog o" and I'm like "watchu take me for... a snitch?"
I will show you pepper... I will funk all of you up on my next blog post.. All of you that do not trust me again, I will show all of you... so

Tobi

and

Kunle

, come here now lemme open una yansh... Tobi said erhmmmmm that she...erhm... Hahaha.
This is what I'm going to do when next anyone is doing gbeborun beside me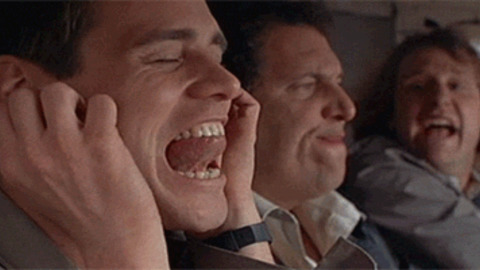 No jokes..I will cover my ears and make noise *sad face*
You know you can totally trust me, right? Good.
That's why I totally respect all the reality bloggers in blog sphere.
But the truth is I get tired. Yes I get tired. I don't get paid to blog... and I am not complaining… I do this cos of my passion for this so there is no pressure but there are times I just don't feel like doing anything... I just get distracted by work, my niece and my nephews, church work and man problems *covers face* but you get my drift, shey?
So here's to us, I love you so much and I won't leave for anything. This is late but Merry Christmas ma mobylizer and a fabulous happy new year in advance. I pray that the New Year will favor us. No weekend download today o… but I think I am getting tired of jollof rice. I have been eating jellof rice for the past 5 days… I am tired of rice. I had an amazing Christmas o. It was on fleek *in Durus voice*.
I had a goal before the end of 2015 to get 10 new shoes...
I gave one out (I had this urge to play santa on Christmas day and I did). Well, I want to play santa again. I have some shoes I want to give out. I wear a size 39 so if you're interested, please send me a mail with title INTERESTED so that I can treat the mail specially.
Oohhh...my email addy is moby.amusu@gmail.com
No words in any language can express how grateful I am for the love you all have shown me and still showing me. Thank you all so much for being there. I pray that it shall be well with you and your family. You will all be a blessing to your generation and the peace and favor of the Lord will not depart from you. Once again, happy new year in advance.